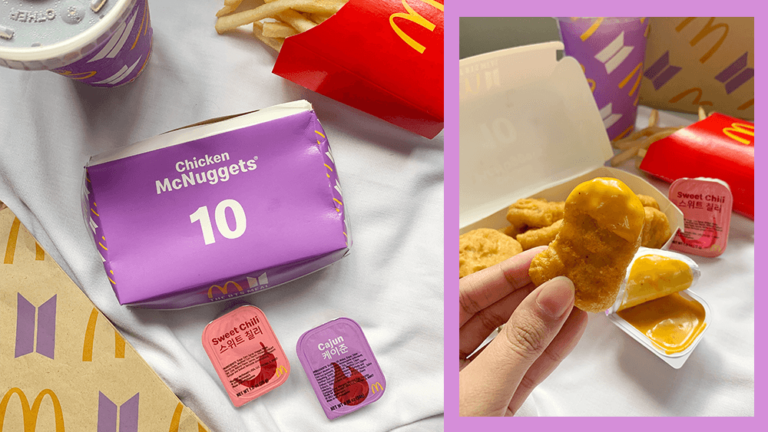 Personnes:

4 Personne(s)
Difficulté:

Moyen
Temps de préparation:

1Heure
Temps de cuisson:

20Min
Temps total:

1Heure20Min
Ajuster les portions
CHICKEN

BATTER

CAJUN SAUCE
TO MAKE THE CAJUN SAUCE

In a small bowl, add all the ingredients for the cajun sauce and mix together until it's smooth. Taste and adjust anything to your liking.

TO MAKE THE CHICKEN NUGGETS

Wrap the chicken breasts in saran wrap or parchment paper and use a mallet or rolling pin to pound the chicken and tenderize it. This process will help it break up faster in the food processor.

Chop the chicken into small pieces and add it to the food processor along with salt, black pepper, cornstarch, and garlic powder. Pulse until there are no more chunks of meat.

Take a little bit of the ground chicken and shape into a McNugget. Make sure not to make them too big or too thick so they resemble McDonald's. Repeat until all the chicken is shaped. Pop in the freezer for 30 minutes or longer if it's hard to handle.

Heat a pot with about 3 inches of oil over medium-high heat to about 325-350°F.

In a large bowl, whisk together flour, cornstarch, baking powder, salt, black pepper, paprika, chili powder, and garlic powder.

Coat each nugget in the dry breading and shake off any excess.

Then add the water and baking soda to the dry batter and whisk to create your wet tempura batter. It should be thin - add more water as needed.

Dip the breaded nuggets in the wet batter and then place in the hot oil. Do not overcrowd them. Fry in batches until golden brown.

Transfer to a wire rack to let any oil drain out and then serve warm with the cajun sauce.